Neat freak homeowners would know perfectly that there is no general cleaning method to keep the house in order. Every room in the house requires a particular method of cleaning, a particular set of tools and materials, as well as a particular length of time to allocate – as some are easier to tidy up than the others. Kitchens for example, can be one of the most cluttered and messy areas in the house. The thing with being disorderly is that sometimes,
severe
disorder in the kitchen compromises its overall functionality, this is why some homeowners just jump into a
kitchen remodeling
project so they could solve all the organization problems all together. However, sometimes, all we need to do is clean up. But cleaning the kitchen also requires a rather careful approach. Understanding how to clean your countertops based on the materials they are made of is the first rule of all. And to help you know more about how you can maintain squeaky clean countertops in your home, here are a few tips:
Granite countertops – Granite is a kind of igneous rock that has a distinctive range colors, making it a popular material choice for countertops. The thing with granite countertops is that, they cannot be cleaned with the usual acidic cleaning solution. This damages granite and make them look faded overtime. So instead of acidic cleaning products, just use warm water and an ample amount of soap to clean off stains and dust from the countertops.

Wood – Wood materials as we know can be easily damaged, so the first thing to remember in keeping a wooden countertop clean is to keep it dry as much as possible. However, from time to time, wooden countertops will also need some scrubbing. To get stains out, mix a quarter cup of chlorine and 1 quart of water into a solution. Apply, rinse, dry and coat the countertops with oil. Also, in order to remove the smell absorbed by the wood, you can simply rub some lemons on the surface for instant odor relief.

Stainless steel – One reason many homeowners choose stainless steel countertops is that they are the easiest to clean. While stainless steel is easy to clean, this does not mean it is incapable of having stains that make the kitchen look muddled. The trick is regular cleaning. Use warm water with a small amount of baking soda to remove usual kitchen stains and dust. Remember to always dry the surface before cleaning in order to avoid water spots. Also, if you observe mineral deposit, clean with a small amount of vinegar and rinse with water.
The kitchen can really be the messiest place in the house. And the problem with cleaning up the kitchen is that we use it every day. Hence, the kitchen does not stay neat and orderly without multiple daily cleaning. When things seem to get out of control, many people jump right into doing kitchen remodeling projects; however, the trick is to clean and pamper your countertops as regularly as you can. These tips will help you know how to clean up your countertops properly depending on what materials they are made of; because as said earlier, there is no one-size-fits all approach in cleaning the house, and in cleaning your kitchen. There may me methods that instead of cleaning your kitchen might damage your fixtures instead. So keep these tips in mind and know how to keep your countertops spotless for a long time.

Artistic Kitchen Designs & Cabinets New York is a content contributor for Kitchen Remodeling Design NYC. If you need remodeling work for your kitchen or a new island and you live in Brooklyn, NY you can call Artistic Kitchen Designs & Cabinets New York. Visit their Brooklyn, NYC kitchen remodeling service page today. They are also experts when it comes to designing kitchens.
Artistic Kitchen Designs & Cabinets New York 1908 Coney Island Ave Brooklyn Brooklyn, NY 11230 (718) 375-7535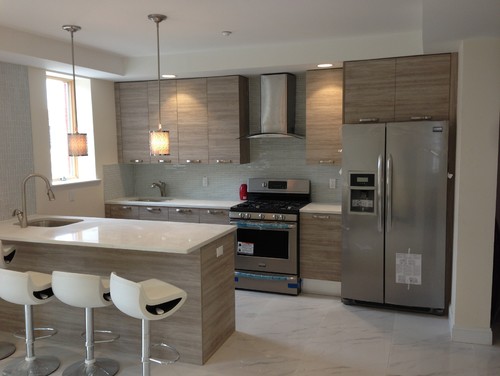 In : kitchen remodeling
Tags:
"kitchen remodeling" "clean kitchen counters" "kitchen remodeling brooklyn
nyc"